On April 11 at 10:30am a contractor working on Island Road in Port Perry damaged a primary transport cable impacting all cable, wireless and fibre customers in the Ruralwave region of the Rogers network.
The Ruralwave damage control team was dispatched at 10:45 to the site.  On arrival at 11:45 back up protocols were implemented and wireless and fibre customers returned to service.  Unfortunately the capacity available was not significant enough for the demand and further bandwidth was added at 12:30pm to fully restore fibre customers.
Further efforts are now in place to continually service the fibre network with sufficient bandwidth in the event of a major hit.
Cable customers continued to be impacted until 2pm when the Ruralwave construction team along with our dedicated fibre spice team created a temp route around the construction zone.  Full service was restored at 2pm.  Unfortunately at 8am on April 12th the same contractors did not abide by the rules and regulations of the dig safe act and proceeded to move a fibre pedestal on the network with out permission.  This caused a major outage and destroyed a key splice location in the network.  Fibre and wireless customers had a 20min outage as traffic was rerouted utilizing the back route implemented and improved on April 11th.  Cable customers remained down until 12 noon when the restoral of half the network was achieved.  Unfortunately the damaged was so severe that fully restoration of the cable network did not occur until 10pm that night.  Customers would have had intermittent service until 10pm in some parts of the network.
Ruralwave thanks its emergency response teams for attending and quickly actioning the unfortunate incidents along with our Damage control team for attending and providing key information to the contractors on how to request and work around fibre optic lines.
We apologize to our customers.
We encourage our customers to follow our outage page posted at www.ruralwave.ca under customer support.  We have also taken action to add Rogers call answer agents on in the event this occurs again to contact customers during an event as such.
We also want to apologize to our helpdesk and support services.
Everyone on the Ruralwave team was impacted with high call flows and upset customers and we thank them for dealing with each customer with professionalism.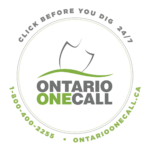 CALL BEFORE YOU DIG
24/7
LARGE OR SMALL
It is unfortunate that not all contractors play by the rules of dig safe or respect others infrastructure in the public field but be assured we will continue to provide education to those that work near our lines.
Please respect the dig safe playbook and always call Ontario One Call
1-800-400-2255
or visit www.ontarioonecall.ca before you dig!