An established Internet provider and champion of broadband expansion, Ruralwave is passionate about bringing reliable and affordable Internet connectivity to rural residents and businesses in Central and Eastern Ontario.
100% Canadian

100% Local support staff

No sub contractors
Supports local businesses

Over 200 Access Points & Growing

24/7 System Monitoring

Local technical support
Prior to being acquired by Rogers, Ruralwave was a family-operated business for 15 years. Our predecessor business – Royal Oak Studio – began life as a computer hardware, software and service provider in Brock Township in 1995.
In response to the growing demand for affordable internet connectivity, Ruralwave was formed in 2005 and began providing high-speed wireless Internet access to rural households, farms, and businesses. In 2016, we began providing Cable TV, Phone & Internet service under the brand name Kawartha Cable. In the fall of 2017, Ruralwave began providing Fibre Internet, TV & Phone services. In 2019, Ruralwave introduced Airstream TV for its WIFI and Fibre customers.

Proud Member of CNOC www.cnoc.ca The objectives of the CNOC are:
To represent the interests of those bodies corporate in Canada that own or operate wireline networks, in whole or in part, and are involved in the competitive provision of communications services to the public over those networks;
To promote innovation and productivity in Canada, as well as Canada's international competitiveness through the removal of barriers to increased competition in the provision of communications services;
To influence the development of laws and regulations, regulatory and judicial determinations, as well as public policy affecting communications in Canada;
To be the recognized and visible authority on the Canadian provision of competitive communications services;
To ensure that high levels of knowledge, training and ethics are adopted by Canadian competitive communications service providers;
To increase the level of competitive communications services business in the Canadian economy.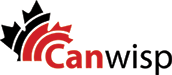 Proud Member of CanWISP www.canwisp.ca About CanWISP Our members deliver voice, video, and data connectivity to rural and exurban communities across Canada to ensure all Canadians have access to our interconnected world.  We work and live in the communities we serve – we are responsive and responsible.
CANWISP works with stakeholders to ensure that spectrum, which is a public resource, is used in the most efficient and beneficial manner for all Canadians.
CANWISP develops and promotes best practices within government and industry.
Secured meetings with Industry Canada to discuss the needs of WISPs for affordable spectrum
Contributed to the White Space technical committee with Industry Canada
WISP Code of Ethics
Associate status with WISPA